MOVING TOWARDS A SMART FUTURE
By 2030, it is predicted that every metropolitan city will be a "Smart City", with its digitally transformed infrastructure linked together — from energy and lighting, transportation, and parking to public safety and pollution monitoring — resulting in improved services, new business models and enormous cost savings. Today, OST has the capabilities to realize this vision of connecting people, processes, data and the environment through the Internet of Things (IoT). With established expertise in complex projects demanding near real-time data analytics, project management, system integration, and cyber security and emergency services, we are ready –along with our partners — to provide feasibility studies, strategic recommendations, and integration, engineering, telecommunication, and project management services today to help cities move towards a Smart future.
PUBLIC PRIVATE PARTNERSHIPS ARE CRUCIAL AT THIS SCALE
Given the enormous investment needed to plan and implement Smart initiatives, one of the major challenges will be to find the initial, up-front money to get started.  The solution is a Public Private Partnership, or P3, a contractual arrangement in which private industry provides capital investment for projects that make the government more efficient – sharing both risks and rewards – and reducing the total cost of ownership. OST has secured commitments from third-party financing partners to support any future P3 initiatives for the government. With these resources, OST can mitigate financial challenges with a proven, reliable, and transformational solution. Furthermore, OST's highly qualified and experienced team has been a trusted advisor to the federal, state and local governments for nearly a quarter of a century. Through these relationships, we already have strong partnerships with current legislative and executive branches allowing us to leverage available grants and subsidies.
THE OST SMART CITY ECOSYSTEM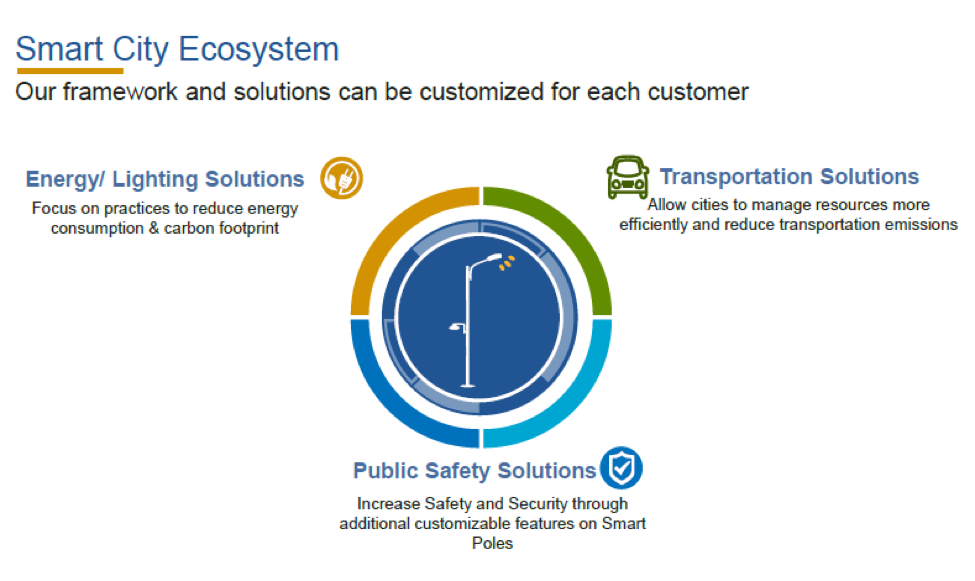 OST CAN HELP CITIES ACHIEVE POWER SAVINGS OF 50-80 PERCENT BY IMPLEMENTING LED LIGHTS USING SMART POLE TECHNOLOGY, WHICH WILL ALLOW EXISTING STREET LIGHT INFRASTRUCTURE TO ACT AS A DIGITAL HUB, OFFERING A FULL SUITE OF DIGITAL SERVICES TO THE CITY.
HERE ARE SOME LINKS TO SMART CITIES AND GOVERNMENT RESOURCES: