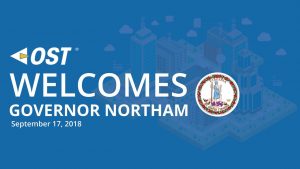 Washington, D.C., September 2018 – On Monday, September 17, Virginia Governor Ralph Northam visited the OST McLean office to engage in a roundtable conversation with OST principals and executives. Also in attendance from the State was Brian Ball, Secretary of Commerce and Trade; Vince Barnett, Vice President of the Virginia Economic Development Partnership; and Tom Scott, Director of the Virginia Economic Development Partnership.
During the roundtable, the following topics were covered:
The State's commitment to the defense and high tech sectors, including Smart, Cyber, and Artificial Intelligence
Personalized and Precision healthcare
Making the State work better through top to bottom agency reviews
Creating a strong climate for businesses to grow
Job retraining and broader workforce development programs for individual growth
Broad educational programs at the K-5, 6-12, community college, 4-year schools, and beyond (including STEM).
Your commitment to conceiving and implementing solutions that advance the public sector, and cost less
OST's commitment to working with higher education
Our commitment to implement a Center of Excellence and Innovation (CoEI) to promote advanced technology
Following the roundtable discussion, Governor Northam, who was greeted by a standing room crowd of OST employees, addressed many initiatives in Virginia and OST's capabilities. In his speech he complimented the presentation that was given by OST principals and stated, "As a company, you all are growing and have so much to be proud of and it fits right in line with what we are trying to do in Virginia." After his speech, Governor Northam engaged in a brief question and answer session with OST employees.
About OST: OST, Inc. (Optimal Solutions & Technologies) is a provider of C4ISR, Cyber, Engineering, Logistics, Managed Services, and Smart technologies. OST serves several industries, including aviation, defense, financial, health, insurance, utility, and transportation. OST's client base consists of Fortune 1000 companies and public sector organizations including the U.S. Department of Defense (Air Force, Army, Navy and Joint programs), Commerce, Education, Energy, Homeland Security, Housing and Urban Development, Transportation, Treasury, and Veteran's Affairs, and state and local governments.
OST is externally appraised/registered at CMMI-DEV Level 5, CMMI-SVCS Level 3, ISO 9001, ISO 10002, ISO 20000, and ISO 27001.
 Contact Information